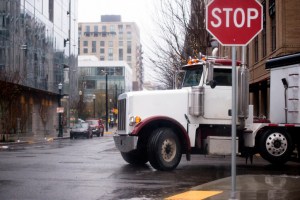 How many times have you seen a large truck or a tractor-trailer have difficulty trying to make a turn at an intersection? Often, they get halfway through the turn and then have to back up and re-steer. Cars to the right of the truck and cars in oncoming lanes hold their breath in the hope that the truck doesn't crush their car. Being struck by a semi-rig or any large truck is likely to cause death or serious injury because the truck weighs so much more than your car and is so much bigger. Even when the truck is going slowly, the injuries can be catastrophic.
Here are some of the reasons why negotiating turns causes so many serious truck accidents:
The cabs and trailers don't move together. Often the trailer will swerve around at a different angle than the cab of the truck.
Large trucks have blind spots, which make it more difficult to see.
Large vehicles need much more room to negotiate a turn than a car does.
Trucks may be too close to the curb when they start their turn.
Often, the truck driver needs to start the turn to the left so the trailer can catch up when the truck ultimately turns to the right.
Truckers and companies are liable for wide-angle turn injuries and deaths
Just because making a wide turn is difficult does not excuse the conduct of the driver or the trucking company that hired the driver. Truck companies should make sure their drivers are trained on how to drive their trucks. Drivers of especially large trucks are required to have a commercial driver's license (CDL). Truck drivers and companies can be found liable for:
Failing to look for blind spots
Not using turn signals
Making the turn from the wrong lane
Making a turn knowing a nearby car is too close and not warning the car driver
Being tired because of driving too many hours
Being inexperienced
Being distracted
Not having working mirrors
Driving a truck that is too difficult to control in turns because it is overloaded
Trucks that make wide turns can also cause a car to underride the truck, or the car to strike another car as it tries to get out of the way of the truck.
Our lawyers assert that truck companies that try to escape liability by posting signs on the rear of the truck that trucks make wide turns cannot be excused for careless and reckless driving behavior.
Get justice now. Our Gladiators in Suits in Nashville, Gallatin, and Knoxville hold accountable drivers that caused you pain and suffering. We pursue just compensation to cover your medical bills, lost wages, and pain and suffering after a collision with a truck. To speak with the experienced trial lawyers respected throughout the state for their litigation success, please call the Rocky McElhaney Law Firm at 615-246-5549 or fill out our contact form. We take cases on a contingency fee basis.
Read More:
Common Causes of Commerical Truck Accidents
All Commercial Truck Accidents Are Serious, Not Just Accidents Involving Big Rigs