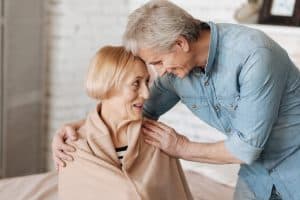 A spouse has the right to bring a loss of consortium claim if his/her husband or wife was injured in a motor vehicle accident, a slip and fall, or any type of personal injury accident. The loss of consortium claim is derivative. This means the spouse cannot file a claim unless the other spouse has a compensable personal injury claim. The amount of any settlement or judgment is then divided into two parts – one for the injured spouse and another part for the loss of consortium claim.
What does loss of consortium include?
The spouses must have been married at the time of the accident. The physical injury to your spouse must be due to some type of tort – a civil wrong other than a breach of contract, like a car crash or an act of medical negligence.
There are four basic parts to a loss of consortium claim:
Loss of wages/employment. If the accident victim is unable to take care of himself/herself and can't afford home health care, then the victim's spouse is often left with no choice but to take a leave of absence from work or quit his/her job. For example, a spouse may need to take an injured victim to medical visits and to physical therapy. Spouses who lose wages because they needed to take care of their husband/wife are entitled to be paid for those lost wages and any lost benefits.
Home services. If a spouse does things in the home such as preparing meals, doing laundry, or cleaning the house; the spouse may be entitled to be compensated for the value of those services.
Loss of comfort and society. Spouses aren't able to enjoy the emotional support of someone who is in physical or emotional pain. Many spouses simply find that the joys of the marriage aren't the same. Conversations tend to be about managing pain instead of more happy events. The non-injured spouse has the right to be compensated for not being able to enjoy the comfort and society of the other spouse.
Loss of intimacy. Sex is a joyful part of any healthy marriage. Spouses with paralysis, nerve damage, brain injuries, and other disorders can't engage with their husband or wife romantically. The spouse who can't enjoy the intimacy of the injured spouse deserves to be compensated for this loss.
In addition, spouses could be compensated for the time and energy to care for any children. Many times, the non-injured spouse must do double duty because the injured spouse can't drive the children to school or social events, can't teach the child, and can't advise the child like they did before the accident.
Loss of consortium is considered a "non-economic loss" in much the same way pain and suffering is not quantifiable.
The Gladiators in Suits at the Rocky McElhaney Law Firm understand what injuries do to families. We work to make sure juries and insurance adjustors appreciate how spouses suffer along with the injury victim. We demand compensation for the injured husband or wife and the victim's spouse. For help, please call us at 615-246-5549 or complete our contact form. We have offices in Nashville, Hendersonville, and Knoxville. We fight for personal injury victims throughout Tennessee.