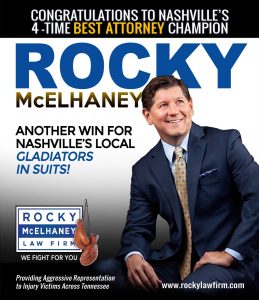 Rocky McElhaney Law Firm is excited to report that our firm founder, Rocky McElhaney, just pulled off a "four"-peat! Rocky was named "Best Attorney" in Scene magazine's 2018 "Best of Nashville" annual Readers' Poll once again.
We are so proud of Rocky, but we are equally grateful to all of YOU, for continuing to vote for him, year after year. It means so much to us that you come out in force every year to vote for Rocky for this award, and for all the honors and accolades you've given him and the firm. It drives us to keep doing better, and to keep fighting to be the best we can, because that's what our clients and our community deserve: aggressive representation by people who know your name, your stories, and your dreams.
Scene's "Best of Nashville" Readers' Poll is an institution
Every year for more than 25 years, Scene has run its annual "Best of Nashville" issue. In it, the writers get a chance to talk about their favorite Nashville people, places and events – and so do all of their readers. The annual Readers' Poll takes the same six categories – Arts, Music & Culture; Food & Drink; Home, Good & Services; Kids; Media & Politics; and People & Places – and asks readers to vote on different subjects than the writers do.
What emerges is a comprehensive list of the best of Nashville, based on the opinions and experiences of the people who live, work, and play here every day. Plus, by keeping the subjects different, you never have to worry about one list influencing the other.
We'll always fight to be the best, and for the best possible outcomes for our clients. Whether we're in a jury trial or at the negotiation table, our Gladiators in Suits can promise aggressive, thorough representation at every step. It's who we are, and it's what we do. It's the Rocky McElhaney way.
Thank you so much, Nashville, for this incredible honor. We love you!