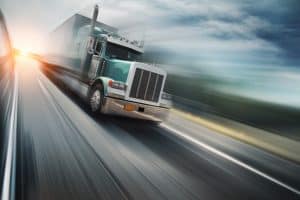 SmartDrive Systems released a report earlier this year with some interesting findings about truck drivers and their driving habits. SmartDrive, a company specializing in video safety and transportation intelligence, releases periodic SmartIQ Beat Snapshots that provide in-depth analysis of fleet performance trends and behaviors.
Their latest report, the "Speeding Drivers Snapshot for Trucking," aggregates and analyzes information from their database of more than 200 million driving events. The results of their report are meant to help fleets and trucking companies understand the dangers and risks of speeding – both bodily and financial – and highlights opportunities to improve safety and efficiency.
Results of the study
The Snapshot observed that truck drivers who speed are less safe overall, and they are likely to take other risks behind the wheel. And those risks can lead to truck accidents. SmartDrive used video analysis of drivers to validate their data and came up with the following conclusions about drivers who speed. Speeding drivers are:
69% more likely to be involved in a collision with another vehicle and 45% more likely to be involved in a near-collision
More likely to engage in unsafe lane changing, merging, passing, braking and turning
More likely to disobey stop signs and red lights
Nearly three times more likely to drive distracted
266% more likely than other drivers to talk on a handheld mobile phone while driving
More than 200% more likely to consume beverages and food or engage in grooming or personal hygiene while driving
272% more likely than other drivers to have both hands off the steering wheel
Nearly three times more likely to practice unsafe following distances
54% more likely to cross over the median or center line of the roadway
171% more likely to engage in paperwork while driving
More likely to waste fuel – the highway miles per gallon for speeding drivers is 2.7% lower than other drivers
The Snapshot also highlighted that, not only is speeding and unsafe driving a physical risk for truckers and those sharing the road with them, it's also a financial one. Truck parts and equipment such as drive trains, bearings, clutches, and gears wear out much more quickly when driven at higher speeds. An increase in speed from 50 mph to 60 mph can increase maintenance costs by 38%. Increasing that speed up to 70 mph increases costs by 80%.
SmartDrive's methodology
To identify their top speeders, SmartDrive ranked drivers' speeding rates in their database. They calculated this rate by using what they call the driver's "speeding score" divided by the number of miles driven. A speeding score is calculated using four different speeding observations measured through video events:
Did the driver exceed the maximum fleet speed (i.e., did the driver top the company-mandated speed limit for three consecutive seconds)?
Was the driver guilty of moderate speeding (i.e., was the posted speed limit exceeded by up to 10 mph for three consecutive seconds)?
Was the driver guilty of excessive speeding (i.e., was the posted limit exceeded by up to 11 mph or more for three consecutive seconds)?
Was the driver guilty of extreme speeding (i.e., was 85 mph exceeded for 10 consecutive seconds)?
Although this study came out this past year, SmartDrive regularly provides data and analytics to their customers. "The clients then have the ability to get this information to analyze and use to their benefit," said Slaven Sljivar, SmartDrive's vice president of analytics.
Speeding or reckless truck drivers can cause catastrophic accidents. If you suffered injuries in an accident involving a truck, talk to the attorneys at the Rocky McElhaney Law Firm in Nashville today. You may be eligible for compensation for your injuries and losses, and we will fight for your rights. Call our truck accident lawyers today at 615-246-5549 or use our contact form to schedule an appointment. We have offices in Nashville, Hendersonville, and Knoxville, and represent clients all over Tennessee