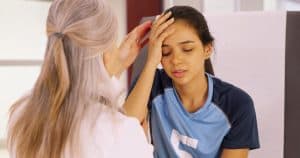 It's the beginning of the school year, and for many kids, that means the start of sports season. The Centers for Disease Control (CDC) has also kicked off the school year by releasing new guidelines for doctors and families to care for children who've suffered a head injury or concussion.
These new guidelines, released in early September, aim to provide doctors with the necessary tools to ensure the best outcomes for children with concussions. Part of these guidelines mean formally referring to concussions as "traumatic brain injury" (TBI) to further enforce how serious they are.
Typically, children suffer concussions from sports, falls, or vehicle and bike accidents.
Says Dr. Andrew Kiragu at Medical Director of the Pediatric ICU at Hennepin Healthcare, "In people's minds concussions are something minor. 'Oh you got your bell rung, oh it's okay,' but in reality what someone has suffered is an acute brain injury."
According to the CDC, more than 800,000 children receive care for TBI in emergency rooms nationwide, but until now there have never been any guidelines on pediatric mTBI cases (mild traumatic brain injury). The CDC bases their guidelines on "the most comprehensive review of the science on pediatric mTBI to date."
Five key recommendations
Although the guidelines include 19 sets of recommendations, the agency has highlighted five key guidelines in particular.
Do not routinely image pediatric patients to diagnose a mild traumatic brain injury.
Use validated, age-appropriate symptom scales to diagnose a concussion.
Assess for risk factors for prolonged recovery, including history of concussions or other brain injury, severe symptom presentation immediately after the injury, and personal characteristics and family history.
Provide patients and their parents/caregivers with instructions on returning to activity customized to their symptoms.
Counsel patients and their parents/caregivers to return gradually to non-sports activities after no more than two to three days of rest.
Deb Houry, MD, MPH, director of CDC's National Center for Injury Prevention and Control, said in the CDC's news release, "Until today, there was no evidence-based guideline in the United States on pediatric mTBI – inclusive of all causes. Healthcare providers will now be equipped with the knowledge and tools they need to ensure the best outcomes for their young patients who sustain an mTBI."
Concussions are brain injuries
Dr. Kiragu wants parents to remember that concussions are serious and should always receive attention. "There are many folks who suffer from the effects of a mild TBI or concussion for weeks, sometimes even months after what some would term, 'oh, that was just a bonk on the head,'" he said. "A concussion is not minor, a brain injury is not minor."
If your child has taken a blow to the head, ask their doctor if they are following these new guidelines. And always ensure they're checked for symptoms of brain injury before letting them return to activity.
Although research is constantly moving forward, there's still a long way to go in understanding the brain and how it works. However, guidelines like these are a step toward comprehensive traumatic brain injury care.
If your child has suffered a brain injury, the Nashville attorneys at the Rocky McElhaney Law Firm can help. Our lawyers have what it takes to fight for those dealing with the impact of mild or serious TBIs. We'll work to achieve financial compensation and get your child on the path to healing. Call our legal team today at 615-246-5549 or use our contact form to schedule an appointment. We have offices in Nashville, Hendersonville, and Knoxville.