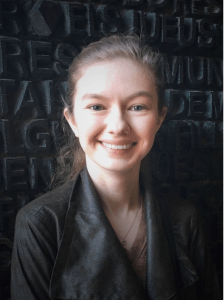 Rocky McElhaney Law Firm is thrilled to announce that we have selected a winner for the 2018 Max McElhaney Memorial Educational Scholarship. We want to offer a giant "Congratulations!" to White House, TN native Savannah Eller. Savannah is off to Dartmouth College this Fall, and we expect some extraordinary things from her.
Not that Savannah isn't already an incredibly accomplished young woman. She speaks four languages, can fly a plane, has travelled the world, and writes for the local paper. She is an artist, a science fair winner, and a former page for the Tennessee Senate and Tennessee House of Representatives. She's also a second-degree black belt, so you know that when times get tough, Savannah can handle whatever life throws at her.
We can talk about her amazing accomplishments for hours, but there's one in particular that we find really extraordinary. A while back, Savannah identified the need for English as a Second Language (ESL) instructors in her town. Instead of simply being frustrated, she took matters into her own hands and applied to the certification program to be come an instructor. She asked local businesses to sponsor her, and applied for (and received) a scholarship from the Tennessee Foreign Language Institute, to fund the courses. She then completed the required 150 hours of instruction to obtain her certification – the only high school student in the history of the program to do so. She now runs a weekly course for beginners at the White House Public Library, where children and their parents are welcome.
Did we mention she accomplished all this while taking AP courses, and earned a 4.0 GPA almost every year?
She's a smart cookie.
And she's also caring, generous, driven, passionate and full of an adventurous spirit. In her personal essay, Savannah told us that she knew what she was about: "I'm motivated by my passions and by a belief that my life should have purpose and meaning. And I plan to use my college education to learn deeply and broadly, gaining the skills to be successful," she said.
We couldn't agree more. We've never met a candidate who embodied Max McElhaney's appetite for life like Savannah does. Max was smart, kind, generous and filled with love – for his family, his friends, and the world around him. We see those same attributes in Savannah, who we truly believe is going to make the world a better place.
We hope that you'll all join us in offering Savannah Eller a joyful, heart-felt "Congratulations!" on being named our 2018 scholarship award winner. She certainly deserves it.