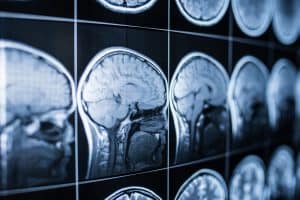 PsychCentral reported on August 1, 2018 that a new medical device is ready to help doctors evaluate whether someone is likely to have a mild traumatic brain injury. The normal methods for diagnosing a traumatic brain injury are computed tomography (CT) scans and Glasgow coma scale evaluations. CT scans are costly and include the risk of radiation exposure. CT tests are normally done at a hospital. The Glasgow scale test examines how patients respond to various types of visual and sound stimuli. The scale test is very useful for determining if a patient has a moderate to severe traumatic brain injury.
The problem with a CT scan is that it takes a long time to administer. The value of the new blood test is that doctors can take a drop of blood and analyze it quickly. A fast test can mean the different between telling someone to continue what they're doing or to stop and get immediate medical care. The new test can be done in pharmacies and sporting venues.
How the new TBI blood test was developed
The participants in developing the blood test included the University of Geneva (UNIGE) in Switzerland and Spanish hospitals in Barcelona, Madrid and Seville. The blood test is called the Point-of-Care Test (POCT. The POCT uses just one drop of blood to analyze the blood's protein levels. The protein blood test was developed, according to a medical professor at UNIGE, because the researchers were curious to know if certain proteins could be isolated – based on the belief that the presence of these proteins increases when someone is a victim of a traumatic brain injury.
According to the report, when someone has a TBI, some brain cells are damaged. These damaged cells contain proteins which are released into the bloodstream.
The researchers compared:
The blood of patients who were admitted to a hospital based on suspicion they had a TBI but with a negative CT scan and
The blood of patients who were diagnosed with a brain lesion
The medical researchers, using a process called proteomic analysis, were able to isolate four markers for TBI:
H-FABP
Interleukin-10
S100B
GFAP
The researchers concluded that for one-third of suspected TBI cases, the level of H-FABP rose. The POCT test is comparable to a pregnancy test. A single drop of blood is positioned "on the well of a small 5cm plastic case." In 10 minutes, a determination can be made as to whether the H-FABP level rose sufficiently high to indicate a risk of mild traumatic brain injury. If the protein level rises too high, the patient is sent for a CT scan. Otherwise, the patient may be allowed to continue his/her activities. Another device, called a Cube Reader, can interpret the test results by displaying the work "negative" or "positive."
The research was published in the PLOS ONE journal.
At the Rocky McElhaney Law Firm, our Gladiators in Suits keep current with medical advances in TBI remedies. We regularly with neurologists, neurosurgeons, and other TBI medical professionals. Our Nashville trial lawyers work to get our clients everything they deserve when a car crash, fall, or other accident causes a brain injury. To make an appointment with an experienced TBI lawyer, please phone us at 615-246-5549 or fill out our contact form. We have offices in Nashville, Hendersonville, and Knoxville, and represent injury victims across Tennessee.