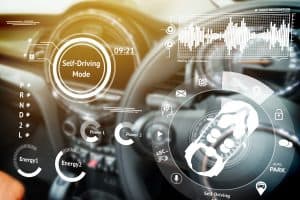 Waymo has developed in accordance with Jaguar Land Rover an electronic Jaguar that can drive itself. The company is planning to build 20,000 of the I-PACE vehicles by 2021. Initially, consumers will only be able to ride in the I-PACE by using Waymo's ride-hailing app. In addition to concerns about the safety of self-driving, the I-PACE will test whether riders will choose premium vehicles like Jaguars from ride-sharing companies.
Waymo unveiled the self-driving car at a press event in New York City in late March, and had planned on testing the I-PACE in Arizona. But that plan may now be up in the air: in March, an autonomous Uber vehicle was involved in a fatal car crash in Tempe, and a Waymo minivan was involved in a "minor collision" with another car in Chandler. Luckily, in that accident, everyone walked away. It is currently under investigation.
Waymo declined to respond to questions about the Uber fatality. The company CEO, John Krafcik said they were confident in their new vehicle and its technology. Following the Chandler crash, the company released a video clip of the collision, as well as a short statement:
Today while testing our self-driving vehicle in Chandler, Arizona, another car traveling in an oncoming lane swerved across the median and struck our minivan. Our team's mission is to make our roads safer – it is at the core of everything we do and motivates every member of our team. We are concerned about the well-being and safety of our test driver and wish her a full recovery.
The history of Waymo's self-driving vehicles
Waymo was formed in 2009 as a subsidiary of Alphabet, which is the parent company of Google. Waymo's primary focus is on developing self-driving vehicles. Its many vehicles use lidar and other sensors that drive the cars without human interaction. Waymo, like other self-driving companies, believes that self-driving cars will make driving safer because drivers won't be distracted, won't drive while intoxicated, and won't be subject to human error. The recent Uber fatality suggests that that belief is a wide leap of faith – that much more testing is required.
Waymo also believes self-driving vehicles can be used in more than just personal vehicles. It believes the technology should be used in trucks, public transportation, and rideshare services.
Waymo, according to techradar, is known most for its minivans such as the Chrysler Pacifica Hybrid. Waymo's sensor technology helps the vehicles create a 360-degree view. The lidar helps the van see in 3D and detect objects 300 meters away. Waymo claims its vehicles can see under and around vehicles. Machine learning, developed by Waymo, is used to identify emergencies and handle complex situations, such as left-hand turns.
At the Rocky McElhaney Law Firm, our Nashville car crash lawyers hold all wrongdoers liable. This includes car manufacturers as well as car drivers and car owners. If a car is defective, the technology design or software doesn't work. The makers of the defective car should pay for the harm, pain, medical bills, and other damages they cause. To schedule your free initial consultation, please call 615-246-5549 or fill out our contact form. Our dedicated attorneys serve injury victims in Nashville, Hendersonville, Knoxville, and all across Tennessee. We fight for you!