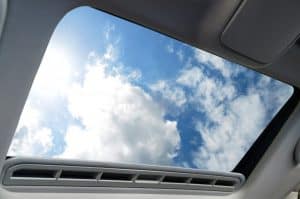 If you own a car with a sun roof or a moon roof, you might be facing an unexpected danger. A recent piece in Consumer Reports states that "exploding" sunroofs are an increasing danger to occupants. The magazine report shows that consumer complaints about sunroofs are expanding. The complaints occur monthly across the country. While the incidents aren't as common as tire blowouts, an exploding sunroof can cause death and catastrophic injuries. The roofs don't just explode when they're being operated, by the way: they can shatter while your vehicle is parked in the driveway.
The consumer organization's investigation reveals that regulations and manufacturer safety standards are not keeping pace with the new designs – especially the increased size of the sunroofs. Large glass shatters easily.
The cars with the most sunroof defect complaints
The Consumer Reports study reviewed complaints between 1995 and 2017. Thirty-five manufacturers and 208 models were analyzed. The ten brands with the most sunroof complaints were:
Hyundai – 119
Ford – 85
Nissan – 82
Kia – 78
Scion – 72
Toyota – 61
Honda – 53
Volkswagen – 38
Cadillac – 28
BMW – 27
So far, only the Kia Sorento (42 complaints) is being investigated by the National Highway Traffic Safety Administration. One Hyundai Veloster (54 complaints in total) owner complained that the shower of broken glass caused his arm and forehead to bleed.
Consumer Reports believes that the actual occurrences of exploding sunroofs is much greater than the number of formal complaints to the NHTSA. Many consumers don't file formal complaints. If you have had an issue, you can contact the NHTSA's consumer complaint website, or call the Vehicle Safety Hotline at 888-327-4236.
Protecting yourself against sunroof-related injuries
Consumer Reports believes the following steps should be taken to reduce the risk of injury and possible death from flying glass:
Auto manufacturers that see a pattern of shattering sunroofs should recall the affected vehicles
The NHTSA and other regulators shouldn't wait for more serious or deadly injuries to occur. They should expand their investigation of defective sunroofs now.
Stronger safety standards for panoramic sunroofs should be set by the auto industry without waiting for the regulators to act.
Consumers dealing with exploding defective sunroofs can use the help of an experienced Nashville car accident lawyer. At the Rocky McElhaney Law Firm we use every strategy available to hold wrongdoers accountable. This includes bringing product liability claims, breach of warranty claims, and negligence claims. We see clients who live in Nashville, Hendersonville, Knoxville, and throughout Tennessee. Please call 615-246-5549 or complete our contact form to speak with our attorneys. We fight for you!