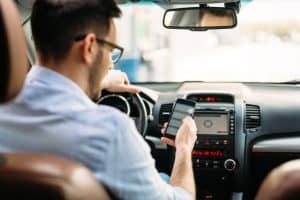 Tennessee News Channel 9 reported on February 8, 2018, that it recently examined the dangers of texting while driving first-hand and driving while distracted. Their reporters witnessed numerous drivers calling on their smartphones, texting, and applying makeup – which meant their eyes weren't focused on the road.
The report also made the following observations either directly or by speaking with other drivers:
Drivers were focused on their phones even when traffic lights turned from red to green
Most drivers didn't even stop their misconduct when the weather worsened
Some drivers are using their laptops while they drive
Distracted drivers cut off other drivers even when the other driver is the operator of a huge 18-wheeler
When a news investigator asked students why they continue to drive while distracted, even though the dangers are well-known, the students replied that they just don't think accidents are going to happen to them.
The dangers of distracted driving are well-known to many Tennessee students through first-hand knowledge. One student said that six seniors from her high school died in car accidents. Though the deaths made headlines in the Nashville press and in the high schools, the student says students still continued to drive while distracted.
Distracted drivers can't respond to traffic emergencies because their hands aren't on the steering while, they not looking for emergencies, and they're not thinking about the traffic around them.
Tennessee law on distracted driving
Tennessee does have laws, enacted in 2009, on texting while driving and using a cellphone, two common forms of distracted driving.
The laws:
Ban texting while driving for all drivers. This includes reading, writing, and sending text messages.
Ban cell phone use by drivers who have a learner's permit or an intermediate license
Ban school bus drivers from using cellphones unless there is an emergency
Anyone wo violates the law can be fined. The fine is just $50
There's no excuse for distracted driving. Drivers should either wait until they get home or to work because they use technical devices. They should pull off the road to eat, drink, or apply their makeup. At the Rocky McElhaney Law Firm, our Gladiators in Suits, hold distracted drivers and the owners of the care responsible for the physical and emotional harm they cause. Our injury lawyers in Nashville, Henderson, and Knoxville are ready to help you get justice. Please call us at 615-246-5549 or fill out our contact form. to make an appointment.