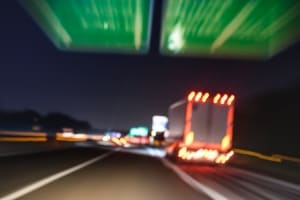 Last summer, after encouragement and support from the trucking industry and traffic safety advocates, the National Highway Traffic Safety Administration (NHTSA) and the Federal Motor Carrier Safety Administration (FMCSA) proposed a rule that would require large trucks to install and use speed-limiting devices.
The rule would require that the speed-limiting device in a truck would be set at a designated speed, which has not yet been proposed. The Department of Transportation (DOT) has proposed discussing the benefits of setting the speed limit for these devices at 60, 65 and 68 mph. The DOT said that it would consider the speed limit for the devices based on public input. The public voiced their opinions about the speed limiters. More than 5,400 public comments were submitted, and the DOT extended the deadline 30 more days because of the high level of interest.
Lane Kidd, managing director of the Trucking Alliance advocacy group was quoted in an article on Heavy Duty Trucking's blog, "Limiting tractor trailers to a reasonable maximum speed makes common sense and companies that utilize speed limiters are safer and also more profitable because they gain fuel savings, and better brake and tire wear," he continued. "Speed limiters are coming, either through the legislative or regulatory process because they will save lives, and we won't give up the effort until we achieve that goal."
Norita Taylor of the Owner-Operator Independent Drivers Associations (OOIDA) told Heavy Duty Trucking that, "We
[at OOIDA] know that there are entities that still want to push dangerous speed limiters under the guise of safety."
In June 2017, a study of the effects of a new speed limiter device law in Ontario showed that collisions involving large commercial vehicles fell by 73% after a speed limiter device law took effect. The study, which lasted the year between 2014-2015 analyzed data from before the law and after the law. The Ontario Trucking Association (OTA) which was a strong proponent of speed limiter technology, was concerned that limiting the speed for trucks would create a dangerous speed differential, which would lead to more accidents between passenger vehicles and large trucks, but the study concluded that this was not the case. The percentage of rear-end crashes stayed the same pre-and post-legislation, while the rate increased for other drivers.
The impact of ever-increasing speed limits on our nation's highways
In an article on Trucks.com, there is a graph that displays the number of deaths and the approximate number of expected deaths if maximum speed limits had not increased between 1993 and 2013. This graph estimates that if maximum speed limits had remained at 1993 levels, there would have been 1,900 fewer deaths in 2013 alone and 33,000 deaths over two decades. Incidentally, this graph does not include the unprecedented increase in traffic fatalities that occurred in 2015 and 2016.
Adrian Lund, president of the Insurance Institute for Highway Safety said in the Trucks.com article, "While still a small number, every truck traveling that fast represents a big risk because it has 50 percent more energy to manage in an emergency than if it were traveling 15 mph slower. Speed limiters that physically prevent trucks from traveling that fast are one way to make roads safer for everyone."
Trucks are so much larger and heavier than passenger vehicles, and the faster they are traveling down the road, the longer the distance required to stop to avoid a crash. Limiting the speed on large trucks that share the highways with passenger vehicles will help improve traffic safety for all drivers.
At the Rocky McElhaney Law Firm, our truck accident lawyers in Nashville, Hendersonville, and Knoxville have experience handling complex truck crash cases regardless of the cause of the crash. Our Gladiators in Suits guide victims and families through each phase of the case making sure that they are heard and understood. You are invited to call 615-246-5549 or make an appointment through our contact form.