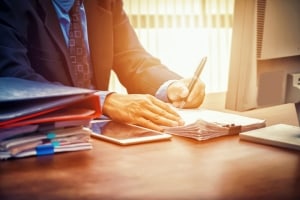 At the Rocky McElhaney Law Firm, we know that engaging with, and providing support for, our community is not only important – it's at the heart of what we do. Over the years, we have been honored to meet some of the kindest, most generous people in Tennessee; people who were down on their luck, or dealing with horrific injuries, or worried about their families. And each and every time, they opened their arms and their hearts to us. We feel it is only right to do the same for them, and for all of the people out there who need a little help.
That is why we are so proud to announce that in 2015, our peers and colleagues donated more than $118 million worth of time to doing pro bono work on behalf of those in need. The annual report issued by the Tennessee Supreme Court's Access to Justice Commission found that 8,122 lawyers donated 591,064 hours of service, either through one-on-one work, or legal clinics, or through working with non-profit organizations (just to name a few). That's just about half of all the attorneys in Tennessee. And every single Tennessee law school – 100% of them –reported pro bono work being done by their students and faculty.
We are so proud of our colleagues, and of our own team, for living up to our nickname as the Volunteer State. Rocky and his team were among those who donated their time and resources to help. Seeing these numbers, and the results of that time, gets us revved up to do even more next year.
What is pro bono work?
When attorneys do work pro bono, they do it without charge, or with a greatly reduced fee. (Pro bono publico, translated from Latin, means "for the public good.")The Tennessee Supreme Court says every attorney should aspire to provide at least 50 hours of service, but it has specific rules about how we can go about doing that:
"In fulfilling this responsibility, the lawyer should:
provide a substantial portion of such services without fee or expectation of fee to:

persons of limited means; or
charitable, religious, civic, community, governmental, and educational organizations in matters that are designed primarily to address the needs of persons of limited means; and

provide any additional services through:

delivery of legal services at no fee or at a substantially reduced fee to individuals, groups, or organizations seeking to secure or protect civil rights, civil liberties, or public rights, or charitable religious, civic, community, governmental, and educational organizations in matters in furtherance of their organizational purposes, where the payment of standard legal fees would significantly deplete the organization's economic resources or would be otherwise inappropriate;
delivery of legal services at a substantially reduced fee to persons of limited means; or
participation in activities for improving the law, the legal system, or the legal profession.

In addition to providing pro bono publico legal services, a lawyer should voluntarily contribute financial support to organizations that provide legal services to persons of limited means."
At the end of the day, these rules are designed to help protect the people who needs our services, and could not necessarily afford an attorney otherwise. We are proud of the work we have done, and that we could contribute to our communities in such an important and impactful way.
The Rocky McElhaney Law firm is a premier personal injury firm serving clients in Nashville, Hendersonville, Knoxville, and throughout Tennessee. To learn more, please call 615-246-5549 or fill out the contact form.