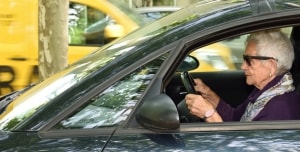 While many seniors are good drivers, the state of Tennessee does have some concerns that as we age, our ability to see and respond to emergencies diminishes as we reach our 60s, 70s, 80s, and 90s. Seniors are more likely to need cataract surgery and to suffer disabilities like Alzheimer's disease than younger drivers. Driving privileges must be balanced against the need to ensure the public's and the individual driver's safety.
Some of the restrictions on senior car driving privileges in Tennessee
All drivers, including elder drivers, must renew their driver's license every five years. The Tennessee Driver Services Division (DSD) also requires that drivers undergo a free vision test. Some drivers may be told that they need to have a full eye exam conducted by an optometrist or ophthalmologist. The DSD can also require that a driver, of any age, take a new written test and/or a new road test.
The DSD often requires that that anyone who needs glasses or contact lenses have a restriction placed on their driver's license that they must wear their corrective eyewear while driving. The DSD can also require that a driver drive only during the daylight, wear their orthotic devices or prosthetic devices while driving, or even that their car have adaptive devices. While these restrictions can apply to a driver of any age, typically older drivers are much more likely than younger drivers to have a restriction on their license.
Drivers are also required to verify that that are psychologically and physically able to drive. Seniors who have diabetes (sometimes a person with diabetes will need to have a leg amputated), respiratory problems, nerve or other disorders may need to be evaluated by a medical doctor to evaluate whether they should be allowed to get behind the steering wheel.
If a doctor, police officer, or family member is concerned that a senior should not be driving their vehicle; that person should notify the Tennessee Department of Safety of the danger the senior poses to himself/herself and to the public.
Disabled drivers in Tennessee
Drivers who have a disability but can still physically and emotionally drive a car may be entitled to a disability license plate and parking placard so that they don't have to walk far after parking their car. To get a disabled placard or plate, the driver must get a medical doctor to certify the driver:
Has had a leg, foot, or both hands amputated or that he/she is a paraplegic
Can't walk more than 200 feet without stopping
Needs some type of medical device such a crutch, a wheelchair, or an able adult to help them walk
Has a severe lung disease or heart disease
Has mobility problems
The driver must pay the fee and complete and mail the application.
If a senior driver causes or is the victim of a car accident, the Nashville, Hendersonville and Knoxville car accident attorneys at the Rocky McElhaney Law Firm can help. Our Gladiators in Suits fight to get victims and the families of deceased victims all the compensation they deserve. We also hold seniors accountable when their negligence or recklessness causes physical harm. To discuss your case with an experienced Nashville injury lawyer, please call us at 615-246-5549 or complete our contact form to make an appointment.