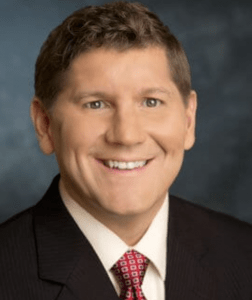 The first time, we were excited. The second time, we were thrilled. But for this three-peat, we are ECSTATIC to announce that for the third year in a row, Rocky McElhaney has been named the number one "Best Attorney in Nashville" in the Scene Magazine's "Best Of Nashville" Annual Reader's Poll!
We felt like we were already winners during this year's voting period because of how much support we received across our social media. Folks took time to not only vote for us, but shared our posts and told others about their experiences with us in the comments sections.
This is the third time in a row Rocky's been voted "Best Lawyer in Nashville," and we could not be more proud, or more grateful to all of you. "You should have seen the dance he did when he found out you'd honored him again this way," said Senior Associate, Steven Fifield. "It was a weird combination of the Tootsie Roll, the Stanky Leg, and something from Saturday Night Fever."
Though it was Rocky who was singularly named for the Best Lawyer award, in a video announcement to his staff about the win, he told them "This isn't just my award – this is YOUR award too!  You make this possible.  You guys work hard right alongside me day in and day out.  This is an award from our clients and our friends thanking all of us for our contribution to helping make their lives a little better through the work we do. Congratulations RML!"
We think everyone who voted for Rocky should take part in this win, because it was YOU who accepted all of us into your hearts and into your community so long ago. We wouldn't be where we are today if you all hadn't put your faith in us, given us a reason to get up in the morning and fight, and let us celebrate your lives with you. Thank you!
I want to see Rocky's name on the "Best Of Nashville" list!
We do, too! Like last year, Scene gave its readers 7 different categories to choose from:
Arts & Culture
Food & Drink
Home, Goods & Services
Kids
Media & Politics
Music
People & Places
Attorneys fall under the "Home, Goods & Services" category, and you can see Rocky's name by clicking the link above – or by clicking right here. And just like in other years, the writers for Scene have their own categories and their own criteria for selecting the best, so no one at the magazine played any role in the readers' poll. All 500 big, beautiful votes came directly from you!
A wonderful, extraordinary year for all of us
All of us here at Rocky McElhaney Law Firm have had such a wonderful year, filled with successes and dreams achieved. Rocky McElhaney Sports Agency is officially a year old, and our new, state-of-the-art compound is open for business. We've added some kick-butt litigators to our family, won a few awards and some pretty big settlements and verdicts, and celebrated when Rocky was named an InCharge Leader by the Nashville Post. We threw an Eclipse Viewing Party, gave away the world's coolest Yeti cooler at Taste of Hendersonville, and filmed some commercials that left us crying with laughter.
But the best part of the year was spending it all with you: the people who make every day a little better than the one before it. We cannot tell you how much your love, support and acceptance means to all of us, so we'll leave you with Rocky's words: "Thank you so much for hanging out with me, and making this happen. Love you guys."