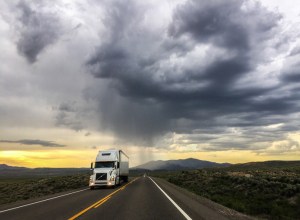 Truck drivers and the shipping companies who hire the drivers need to be especially alert to the dangers of inclement weather. While bad weather is a danger for drivers of all vehicle types, truck accidents are more likely to cause death and severe injuries than car collisions when the sun is too bright, the roads are too slick, or the fog makes seeing impossible. This is because trucks are much more difficult to control in any type of weather. The size and weight of trucks creates a much stronger impact when a collision occurs than when cars collide. Trucks also pose a danger that the cargo can spill if the truck jackknifes or rolls over. Cargo spills can cause multi-vehicle accidents.
Safety measures for truck drivers in poor weather
Truck drivers should take the following steps when the weather turns bad:
Be prepared. Drivers should make sure their wipers work before they drive, that they have the right tires to handle snow and ice, that the tires are properly inflated, and that the car has the proper level of windshield wiper fluid. They should have sunglasses to handle bright sunlight in any season. The front lights, brake lights, and turn signals should be in working order. Cargo should be properly secured.
Be ready to respond to driving conditions. The best rule is to slow down and only go as fast as the conditions allow – not as fast as the speed limit says. Use your lights so that you see other drivers and they can see you. Stay farther away from other vehicles so you have more distance to stop. Understand how to apply your brakes in wet weather and to how to handle the truck if you start to skid.
Be on the alert for dangers. Truck drivers should keep an eye for oil slicks and black ice. Understand that bridges freeze before other road surfaces because the bridge is cooled under and over the bridge surface. Drivers of big-rigs and other large trucks should understand how to drive in high winds. Semi-trailers and commercial trucks are much harder to control than smaller vehicles when the winds are high.
Get off the road if conditions are really bad. Don't drive if conditions are unsafe. Either pull off the road until the weather clears or get off the road altogether.
Truck drivers should also make extra sure that they are not too tired and do not drive when they are distracted. Bad weather is not the time to take any chances.
At the Rocky McElhaney Law Firm, our lawyers hold drivers accountable when their negligence causes death or personal injury. Our Gladiators in Suits also work to hold shipping companies liable if they are negligent in education or supervising their drivers. To speak with a Nashville, Hendersonville, and Knoxville truck accident lawyer, call us at 615-246-5549 or complete our contact form to schedule an appointment. We handle cases on a contingency fee basis.