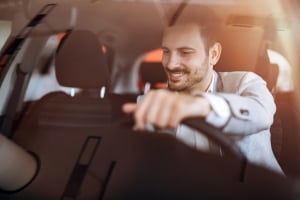 You were hurt in an accident. You have $20,000 in medical bills because just walking into the emergency room costs a fortune. You couldn't work at your well-paying job for months and lost another $15,000 in wages. Your broken arm hurts like the dickens. You can't scratch the itch because it's in a cast. You can't write, eat, or hold your kids because your good arm was the one that was broken. You deserve to be paid for your pain and suffering.
Fault couldn't be more obvious. He ran through a red light at 20mph over the speed limit and struck your car on the side. Great news, right! All you need is for a lawyer to advise you that the case is worth $100,000 and then contact the driver's insurance company to tell them where to send the check.
"Sorry," you're told. There's a catch. The driver who hit you didn't have insurance; or he did, but it was only the bare minimum. In Tennessee, anyone who owns a car is required by law to have at least $25,000 in accident liability insurance to pay for the injuries or death if one person is hurt and $50,000 in coverage if multiple people are hurt.
Hypothetically speaking, if your case is worth $100,000 and the driver drove without having insurance, that means you collect zero from his/her liability insurance because, well, there is no insurance.  If the driver had the bare minimum, as many drivers do, the most you might potentially receive is up to $25,000, but what about the other $75,000?
Your rights to collect from your own insurance company
Car owners should also have uninsured and underinsured insurance for just this reason – to pay the shortfall when the negligent driver's insurance doesn't exist or isn't enough in the event of a car accident. Uninsured insurance (UM) means your own insurance company will pay for your injury claim if the responsible driver did not have any insurance. Underinsured insurance (UIM) means your own insurance carrier will pay your claim minus the amount of insurance the responsible driver had.
To collect from your own company, you must:
Have UM/UIM insurance. Normally, the amount of the UM/UIM insurance is the same. You can typically decide how much you want when you obtain your own liability insurance. Standard coverages can be $25,000, $100,00, or $500,000. More insurance is always better. So purchase as much as you can to protect you and your family.
Understand you can only get the amount of insurance you had before the accident. If you only have $25,000, then that's all you can get, even if your case is worth $100,000. If you had $100,000 or more, you can get the full value.
Notify your insurance carrier right away. A Nashville car accident attorney will formally notify your insurance company – if you retain counsel in time. This means, you should contact a lawyer soon as possible.
Show that the responsible driver didn't have insurance or didn't have enough insurance to cover the amount of the claim.
You will need an experienced trial attorney to guide you through the process and to convince your insurance carrier that the case is worth every penny you lost. To help you get the right amount of money from all insurance companies involved, speak with one of our Gladiators in Suits by calling 615-246-5549 or completing our contact form. At the Rocky McElhaney Law Firm, our Nashville, Gallatin and Knoxville attorneys take cases on a contingency fee basis.