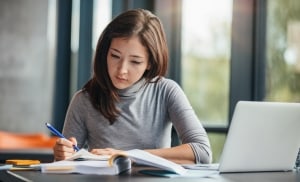 It takes a lot to achieve your dreams: hard work, dedication, and in many cases, a college degree. At the Rocky McElhaney Law Firm, we know just how important it is that students get the support and guidance they need to reach their educational goals – and just how expensive it can be along the way. That is why we want to help the ease some of the burden.
Since 2015, the Max McElhaney Memorial Educational Scholarship has awarded $2500 to a driven and highly motivated college students to help pay for their college education. The annual scholarship is paid on the first Monday in September following the season opener football game of the University of Tennessee, in accordance with Uncle Max's wishes. The funds are paid directly to the school and are it is non-transferable. In order to be eligible, you must:
Be enrolled in a four-year undergraduate program at a public or private college of university for the upcoming fall semester; and
Be majoring in either History or English.
Our scholarship is open to students throughout the U.S. So whether you're hoping to be a Volunteer at UT, or heeding your coastal calling at Pepperdine, Rocky McElhaney Law Firm is here to help you do just that.
Application requirements for the Max McElhaney Memorial Educational Scholarship
Our scholarship was founded in honor of Rocky McElhaney's late Uncle Max, a man who dreamed big and lived even bigger. Uncle Max's relationship with the love of his life exemplified what "love" meant to Rocky and his family, and we are proud to share in that legacy of love.
Ready to take your next step toward achieving your educational dreams? Then let's take a look at the application requirements. All applicants should submit the following information by July 1, 2017:
·       A story about the "gold standard of love" in your family (find out more about what this means here)
·       A statement of financial need
·       A written statement of up to 100 words explaining why you should be chosen above all other applicants.
·       One recommendation from a faculty member or university/college advisor
·       Proof of enrollment in a 4-year private college or university the following fall semester
·       Student status and/or declaration of a major in History or Education.
·       One picture of you doing something you love – or being with those you love
About the written statement
We've always prided ourselves on building relationships with the people we help. We'd like to build that kind of relationship with you, too. In order to do that, we want to know what makes you tick, and what makes you uniquely you. We know that you're a hard worker and that you care about your education: you wouldn't be applying for this scholarship if you weren't, right? What we're really looking for is someone who isn't afraid to take a big swing, and who will "wow" us.
So go ahead and brag a little! Let us know what makes you truly special, and why you stand out from the crowd. For this scholarship application, it can only help you to aim for the moon.
Have more questions about the scholarship? We can help!
If you're ready, you can fill out the application online today.  But if you still have a few questions about the process of applying, we've got a couple of tips:
Read the story about the Max McElhaney Memorial Educational Scholarship; it'll help you get a feel for who Max was, and what we're looking for. If you have some remaining questions, then
Go ahead and email us at any time with those questions.
All of us at the Rocky McElhaney Law Firm wish you the best of luck for as you pursue your educational dreams. And if you happen to be in the Nashville, Gallatin or Knoxville area, come on by! We'd love nothing more than to meet you face-to-face.