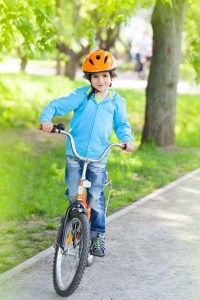 Jana Akagi works at the Oak Ridge School's Preschool. Her husband, Jim, just so happens to be the Oak Ridge Police Department's Chief. When Jana mentioned one day that the school was having a difficult time finding enough properly fitting safety helmets for all 192 students, Jim decided to get involved. It took some doing, but the couple's efforts came to fruition near the middle of January, when police officers and Tennessee Highway Patrol troopers spent a morning custom-fitting every student at the preschool with helmets provided through a grant.
Protecting young brains is as important as encouraging young minds
Alexis Kaiser-Yawn, injury prevention coordinator with East Tennessee Children's Hospital, helped orchestrate the effort with a grant from Kohl's Cares. WVLT 1011 Now reported, "Kaiser-Yawn said the grant program the hospital is using is to prevent injuries for children throughout East Tennessee. 'Traumatic brain injury is one of those things we can't fix at a hospital. If a child hurts their brain, we're in trouble,' she continued. 'We want to start a habit when they're young of wearing a helmet, so that when they're older they'll continue that habit.' Oak Ridge Preschool and its community partners hope to be able to continue this helmet program for children each school year."
Despite advances in research, diagnosis and rehabilitation, the best strategy for traumatic brain injury is prevention. Any efforts to reduce the rate of injury will help; TBI is a serious problem with a wide reach. The Centers for Disease Control and Prevention reports that 1.7 million TBI's are sustained each year, and:
52,000 victims die.
275,000 victims are hospitalized.
TBI accounts for nearly a full third of all injury-related deaths in the US.
It's nice to see communities working together to prevent harm and injury, but for millions of people every year, traumatic brain injury is a life-changing event. Serious traumatic brain injury has serious and often life-long consequences. When your loved one suffers a TBI, your needs and the needs of your family can change in an instant. At the Rocky McElhaney Law Firm, we fight for victims and their families. We work hard to get your family the compensation they need for lost wages, medical expenses and continuing care. When you need us, our experienced Nashville traumatic brain injury attorneys fight for you. For a free consultation, call 615.246.5549, visit our offices in Nashville, Gallatin or Knoxville, or contact us today.