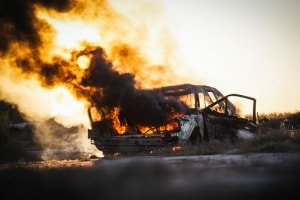 Jody Albright acted without thinking. Just seconds before, the car in front of him slammed into a sign after the driver lost control. The car caught fire almost instantly, but the unknown driver was lucky; Albright and another good Samaritan wasted no time pulling him from the wreck. First responders arrived so quickly that Albright never caught the name of the man he saved or the person who helped him, but his quick thinking in unusual circumstances saved a life that day in late October.
Albright told WATE 6 ABC, "It's our duty as a human being. We all should do that. I'm no different than anyone else. I hope if I was involved in an accident this horrific, someone would do the same for me." Jody Albright's quick action saved a life that day; had he or anyone else hesitated another instant, the accident may have had a very different ending.
Not that unusual
Most people don't encounter vehicle fires every day, but they happen far more often than anyone suspects. The National Fire Protection Association's 2010 report on US Vehicle Fire Trends and Patterns says, "Ninety-three percent of reported vehicle fires and 92% of vehicle fire deaths involved highway-type vehicles such as cars, trucks, buses, recreational vehicles, and motorcycles…. During 2003-2007, the 267,600 highway vehicles reported per year caused an average of 441 civilian deaths, 1,326 civilian fire injuries, and $1.0 billion in direct property damage." Around the country that means:
There are 31 highway vehicle fires reported every hour.
One person is killed in a highway vehicle fire every day.
Highway vehicle fires are responsible for 12% of all fire deaths.
Collisions and overturns were factors in only 4% of highway vehicle fires, but these incidents accounted for 60% of automobile fire deaths.
Most vehicle fires are caused by mechanical or electrical failure or malfunction, but collisions at any speed are capable of breaching the fuel system in a vehicle. When volatile fuel meets a hot engine or sparking wires after a collision, an explosion is almost inevitable. Vehicle fires burn very hot and very quick, and can result in serious injuries. Sometimes, the fire after a collision can be the most dangerous thing about the crash.
If you or your loved one suffered injuries from an accident or car fire caused by another driver, you may entitled to compensation for medical bills, lost wages and continuing care. The experienced Nashville auto accident attorneys at the Rocky McElhaney Law Firm can evaluate your case and help get you the compensation you deserve. Call 615.246.5549, visit our offices in Nashville, Gallatin or Knoxville or contact us today for a free consultation.