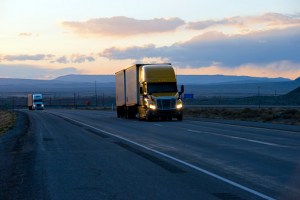 The most recent of a bizarre spate of accidents on I-24 in Nashville saw tons of supplies for mushroom growers spilled across the highway interchange with the Silliman Evans Bridge and on to Hermitage Avenue below. The accident happened around 4:00am on October 1st; the driver suffered non-fatal injuries and no other vehicles were involved, though the area remained closed throughout the morning.
The highways and byways in and around Nashville are not unfamiliar with cargo spills, thanks to the complicated interchanges and constantly changing grades. According to the Nashville Patch, this is just the most recent spill on this particular stretch of highway, "…where previous truck accidents have left bales of cotton, gooey resin and aluminum cans strewn across the roadway."
Some spills get more attention than others (like when I-40 was shutdown during the morning rush in 2011 because $80,000 worth of bull semen spilled from a Greyhound), but most go unmentioned in the nightly news, a sign of just how common these accidents are. When they are reported, they're likely to be the laughingstock of the newsroom while the very real dangers of cargo spills are ignored.
Cargo spills poison driving conditions
When cargo spills from a commercial truck, it immediately creates a traffic hazard. Whether that hazard is debris in the roadway that presents obstacles to high-speed traffic or hazardous materials that can cause physiological harm to drivers, the end result is the same; the road just got more dangerous. This spill of fertilizer and nutrients was relatively inert; no HAZMAT crews were required, but specialized equipment was required to clean up the debris and tow the twisted tractor-trailer away.
During the seven-hour cleanup, traffic was rerouted to avoid the busy interchange, creating unexpected delays, new traffic patterns, and confusion as drivers sought to navigate an unfamiliar route at high speeds or in heavy traffic. The ripple effect of a truck accident spreads far beyond the funny headline, though even we can't resist a good one once in a while. When accidents affect you or your family, the headlines suddenly become much less fun.
If you or your loved one was involved in a crash with a commercial vehicle, or you believe that your accident was the result of dangerous conditions created by a commercial vehicle, you may be entitled to compensation. The experienced Nashville truck accident attorneys at the Rocky McElhaney Law Firm can evaluate your case and help get you the compensation you deserve. Call 615.246.5549, visit our offices in Nashville, Gallatin, or Knoxville or contact us today for a free consultation.