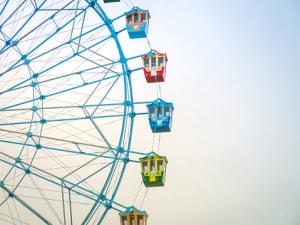 Tragedy struck the Greene County Fair in early August when three girls fell from a faulty Ferris wheel gondola. The car apparently flipped while the ride was in motion, spilling the girls more than thirty feet to the pavement below. Bystanders got the operator to stop the ride to prevent further injuries, but the damage had already been done.
An inspection could have averted tragedy
An investigation later revealed that the rivets on the ride had become worn. The rivets failed and allowed a piece of trim to become wedged in the frame of the wheel, causing the car to tip the girls out. The investigation determined that the ride had been assembled properly for the fair, but was not inspected after assembly because Tennessee relies on third party inspectors. The most recent inspection from Indiana in June was considered sufficient.
Sadly, this was not the case. According to CBS News, 10-year-old Kayla Reynolds and an unidentified 16-year-old were alert and talking after their fall. Kayla's sister, 6-year-old Briley Rae Reynolds, suffered a brain injury in the fall and was intubated after being transported to a children's hospital in Johnson City. She remains in critical condition as of this writing.
Thanks to a lack of oversight, Briley Rae Reynolds faces an uncertain future. Business Insider reported, "Their mother, Kimmee Reynolds, posted a statement Wednesday on Facebook that said both girls remained hospitalized. She wrote that though Briley cannot breathe on her own, she has seemed to respond to relatives' voices and the family, taking it 'one minute at a time.' 'Now it's a waiting game,' she wrote. 'They want to give her more time, and as much as I want her alert and dancing and being feisty, I want her to rest and feel better.'"
A fighting chance
The Reynolds are in a position that parents hope to never face; like the families of untold numbers of TBI victims, they are waiting for answers. Research continues and treatment improves, but traumatic brain injury changes lives in an instant. At The Rocky McElhaney Law Firm, we fight to get accident victims and their families the answers and justice they deserve.
When you or your loved one is injured and needs help, the experienced Nashville personal injury attorneys at The Rocky McElhaney Law Firm can be your advocates. For a free consultation, call 615.246.5549, visit our offices in Nashville, Gallatin or Knoxville, or contact us today.