All of us at the Rocky McElhaney Law Firm know that supporting our clients in their time of need is just one of the many important roles we play when we work with people. Now, we need the support of YOU, our amazing clients! We have been nominated for The Tennessean's Annual Readers' Choice Awards. This year there are a LOT of players in the game, because The Tennessean has added a lot of new categories for the 9th year of the contest. The main categories, however, remain the same:
Food & Drink
Entertainment
Retail & Personal Services
People & Places
Health & Professional Services
The Rocky McElhaney Law Firm is up for Best Law Firm, but we know something that others might not: if we're voted the best, it's because we have the best clients in the country. Like Bryan Adams says, everything we do, we do it for you!
Reasons to vote for Rocky and his team
We want you to feel confident voting for the Rocky McElhaney Law Firm, so here are some reasons why you can feel good casting a vote for us:
We're the home team. Our firm has offices in Nashville, Gallatin and Knoxville, and our attorneys and legal professionals grew up, went to school and live in those communities now. We're the name you know and the firm your friends and neighbors trust when they need help.
We fight hard of our clients. Whether we're in a trial or in negotiations, the members of the Rocky McElhaney Law Firm don't back down from a fight. There's a reason why we were given the nickname "Gladiators in Suits" – because we strive to live up to it every single day. That's why we have the impressive list of verdicts and settlements we do. We don't give up on our clients, and we fight for justice until the end, every single time.
We believe in the power of relationships. Our philosophy is simple: every clients deserves to be treated the way we'd want our family and loved ones to be treated: with respect, dignity and compassion. We're proud of the relationships we've built along the way, and how so many of our clients have become genuine friends of ours over the years.
We give back to the community that nurtures us. From community service and pro bono work, to cookouts and Client Appreciate Days, to investing in our clients' futures – we take care of our own. Like we said, we live, work and play in the very same towns that you do, and we know the importance of giving back.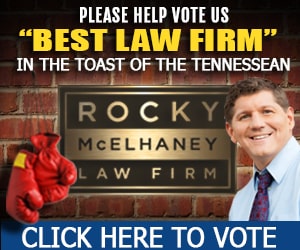 But you don't have to take our word for it: check out the thoughts and testimonials from our past clients to see what inspires us to do more and be more every day.
Voting for the TOAST of Tennessee is officially open, and we hope you and your friends and family will vote for the Rocky McElhaney Law Firm! You can show your support by pressing the "Vote" button to your right (or below on mobile devices).