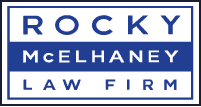 Testimonials
"As much as I love all the "thank you's" my friend is giving me for recommending you, I of course cannot take all the credit. You and your staff again are amazing and when I can, I wil refer you always. My friend is overwhelmed (her exact words) for how well you took care of her and her daughter."
Kerry W.
"We could never begin to thank you for all of your help. We always refer folks to you and will continue as you are, "The Man!" We treasure your friendship and are so proud to say that Rocky McElhaney is our lawyer!"
Bobby and Beck P.
"Rocky, I sure hope that you receive this e-mail, because, so many times all we hear about are the "bad things" that happen, and, not the "good things".Dean and I appreciate the Good work you did for us in the past. You were, and still are, a GREAT attorney!!! We see your commercials on the TV at night, and are so appreciative of you, and your hard work to get our "case"settled. You REALLY are a fine person!!! Thank you again for your help."
Dean and Mary Findlay
"5 stars! To whom it may concern: Rocky McElhaney Law Firm went above and beyond the call of duty when it came to handling my case. Rocky McElhaney and Russell Belk were there for me 100% of the way."
Linda