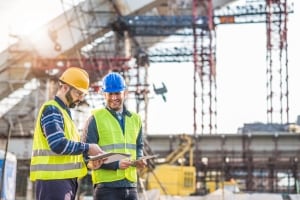 Traumatic brain injuries (TBIs) resulting from blows and bumps to the head are all too common occurrences at construction sites. These catastrophic injuries can cause permanent brain damage, loss of cognitive function, an inability to communicate, inability to use parts of the body, and lots of physical and emotional pain. Concussions are a common TBI. The costs of occupational and physical therapy are exceptionally high. Many TBI patients who have a moderate or severe TBI never fully recover.
According to the Centers for Disease Control, the construction industry is the worst industry sector for both deadly and non-fatal TBIs. An average of 275 construction workers died between 2003 and 2010 – accounting for a quarter of all construction site fatalities. The National Institute for Occupational Safety and Health (NIOSH) analyzed the data and found that:
Workers in construction companies that hired less than 20 employees were actually two and a half more times likely to die from a traumatic brain injury than workers in bigger companies.
The leading cause of TBI fatalities was due to falls from scaffold, roofs, ladders, and other high heights.
Construction site workers in the steel, iron, and rooftop industries had the highest TBI rates.
Construction site liability for TBI injuries and deaths
TBI accidents are often due to the following causes:
Violations of Occupational Safety and Health Administration (OSHA) standards
Not having or using the right safety equipment, such as harnesses that don't fit properly
Lack of proper communication between the employees and site supervisors
Failure to wear hard hats or wearing hard hats that are defective
Trench collapses
Forklift injuries
Truck and auto crashes
Being struck by a falling object, such as a piece of lumber or a work tool
Falls because surfaces are uneven or slippery
Crane accidents
Violations of local building codes
Our Nashville TBI lawyers are here to help you get justice. We determine who was at fault and then hold the responsible parties accountable. The site owner is just one of the companies we bring suits against. There's additional good news. Our firm has earned its strong reputation because we have the smarts and experience to hold everyone who contributed to your TBI accountable. We bring claims against all these parties:
The site owners
The site supervisors
General contractors and contractors
Any company that made or sold defective parts
Don't suffer in silence. Just because you were hurt on the job doesn't mean you don't have rights. If you were an independent contractor or pedestrian, you can sue the employer directly. If you were an employee and a third-party caused your TBI, or caused a loved one to die, our Gladiators in Suits in Nashville, Gallatin, and Knoxville are experienced at holding third parties accountable. We also bring worker's compensation claims.
For help now and strong advocacy, please call the Rocky McElhaney Law Firm at 615-246-5549. You can also complete our contact form to schedule a cost-free appointment.