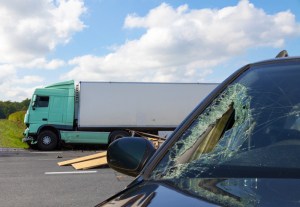 There's just about nothing more frightening that can happen while driving than a truck rolling over. In these tragic cases, the following consequences often result:
The driver of the truck will likely die, or incur serious injuries.
As the truck completes its roll, it can roll into oncoming cars or, because trucks are so big, cars in the lanes opposite the truck.
The cargo from the truck can spill, creating havoc all over the road.
Multi-vehicle accidents can happen because cars hit each other while attempting to get out of the way of the big truck.
Such a spill occurred in March of 2017 on South Church Street and Interstate 24 near exit 18. The accident happened during heavy storms. The extent of the injuries, at the time of News Channel 5's initial report, was unknown.
Main causes of truck rollovers on the Tennessee roadways
Nashville truck accident lawyers stay abreast of truck safety reports to determine fault and help get victims justice in Tennessee courts. One study of large truck crashes by the Federal Motor Carrier Safety Administration (FMCSA) revealed that the major causes of truck rollover accidents are as follows:
Nearly 50% of rollovers happened because the driver was going too fast through a curve in the road. Often, rollovers take place on on-ramps and off-ramps, which are especially curvy. The amount of the load, the condition of the brakes, and the surface road type are contributing factors to curve rollovers.
Driver distraction. Truck drivers who are asleep, intoxicated, playing with their GPS system, or who take their hands off of the steering wheel are likely to lose control of their truck.
Over-steering or under-steering. Truck drivers who pass improperly, swerve in and out of lanes, and don't stay in the middle of their lanes can get into trouble when they try to adjust but do so improperly.
Unsecured loads. Trucking companies often overload their cargo to make more money. If the load is too heavy, too loose, or not properly secured or balanced, the load can shift, causing the driver to lose control.
Our lawyers help injured drivers and the families of drivers who are tragically killed by demanding that trucking companies put safety first. This includes requiring effective driver training and driver simulations.
If a truck rollover on any Tennessee road crushed your car and your dreams of a normal life, our Gladiators in Suits are ready to fight to get you every dollar you deserve. The Rocky McElhaney Law Firm has obtained numerous six and seven figure verdicts and settlements for many Nashville, Gallatin, and Knoxville clients. You can make an appointment by calling 615-246-5549 or using our contact form.