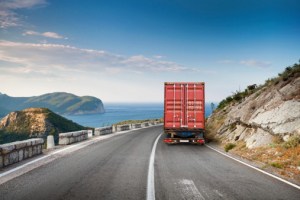 We cover the dangers of big rigs and their cargo all the time. Whether we talk about rear-end collisions, underride guards, blind spots, poor maintenance, or fatal tire blowouts, nothing brings home the consequences of an accident like a real-world example. A crash in Mt. Pleasant in late June illustrated just how dangerous cargo spills can be when a big rig carrying molten aluminum overturned.
The 1,500-degree metal ignited the asphalt; both the truck and roadway were burning when emergency crews arrived on the scene. The smelting plant, located a short distance away, sent workers to assist with the cleanup. The spill extensively damaged the truck and surrounding roadway; Tennessee Department of Transportation crews had to repave the scene of the accident after the clean up was completed.
ABC News 2 Nashville reported, "Police told News 2 the accident is still under investigation, but
[Mt. Pleasant Police] Chief Hay said preliminary findings indicate several factors. 'We believe it's a combo of things – speed, the load shifted and the driver said the chains broke off the pot and the pot slid to the side of the truck, so it was a redistribution of weight, a little bit of speed and the 90-degree turn he went around,' Hay said."
No injuries- this time
Thankfully, the driver was able to safely escape the vehicle and no one was injured in the crash. Had the spill occurred with other cars around, or in rush hour traffic, this would be an entirely different story. Safely transporting dangerous cargo relies on the highest level of attention to detail. Drivers and equipment operators must ensure that cargo is safely stowed with tie-downs and chains that are in good working order. A single failure at any stage can have disastrous, even fatal, results.
When the negligence of a company or its agents causes harm, justice is required. Everyone has an obligation to prevent harm to the best of their abilities; when that obligation is ignored, people suffer. If you or your loved one has been injured as a result of a commercial truck accident, you may be entitled to compensation for your injuries. The experienced Tennessee commercial truck accident attorneys at Rocky McElhaney Law Firm can evaluate your case and help get you the compensation you deserve. Call 615.246.5549, visit our offices in Nashville, Gallatin, or Knoxville, or contact us today for a free consultation.